One of the things that many people might not know about bobcats is that there are actually 13 different subspecies of bobcats. With a population estimated to be over 1 million bobcats in North America, the ultimate breakdown of these subspecies could be interesting, so, let's take a closer look.
There are 13 subspecies of bobcats in total, however, only two of them (Lynx rufus rufus and Lynx rufus fasciatus) are officially recognized. The eleven additional subspecies are not recognized and can be found across the Great Plains, the western United States, and as far east as states like Florida (Lynx rufus floridanus).
Bobcats have a stable population that is currently not endangered. In various regions of North America, different subspecies of bobcats can dominate smaller territories. In this guide, we are going to look at where each subspecies is located and why only 2 of them have been officially recognized by wildlife agencies that are licensed to operate in North America. 
Types of Bobcats and Subspecies Explained (Video)
We will look at each subspecies and attempt to provide you with specific traits designated to that particular subspecies. It's worth noting that some traits can apply to multiple types of bobcats and the general guidelines are no guarantee that a particular type of bobcat will fall in line with those expectations. 
How Many Types of Bobcats are There?
There are thought to be around 13 different types of bobcats, with only two being officially recognized. These cats have dispersed in many places throughout North America, giving them different traits adapted from the regions where they live.
All types of bobcats:
Lynx rufus rufus
Lynx rufus fasciatus
Lynx rufus gigas
Lynx rufus superiorensis
Lynx rufus floridanus
Lynx rufus mohavensis
Lynx rufus californicus
Lynx rufus texensis
Lynx rufus peninsularis
Lynx rufus pallescens
Lynx rufus oaxacensis
Lynx rufus escuinapae
Lynx rufus baileyi
Let's look at each of these in more detail! Many of these bobcats have similarities and some even share some of the same territories. When animals adapt to their particular environment, you start to see changes in their behavior and appearance.
See our article for Where Do Bobcats Live here.
Officially Recognized Bobcat Subspecies
In this section, we'll be taking a look at the 'Lynx rufus rufus' and the 'Lynx rufus fasciatus', which happen to be the only two subspecies of bobcats that have officially been recognized.
Lynx rufus rufus
The Lynx rufus rufus is commonly found in the midwestern United States and there have also been sightings on the east coast. It is believed that the Lynx rufus rufus represents the largest portion of the bobcat population, although it's unclear by how much as their subspecies' population numbers are constantly fluctuating on a seasonal basis.
Some states in the U.S. have large populations despite having been hunted in larges numbers in the past. States like New Hampshire, have as many as 1386 active bobcats. Source.
Lynx rufus fasciatus
The Lynx rufus fasciatus is the name for the second largest representation of the bobcat population, as estimated in 2021. This subspecies is most commonly found to the West of the Great Plains in the United States. Source.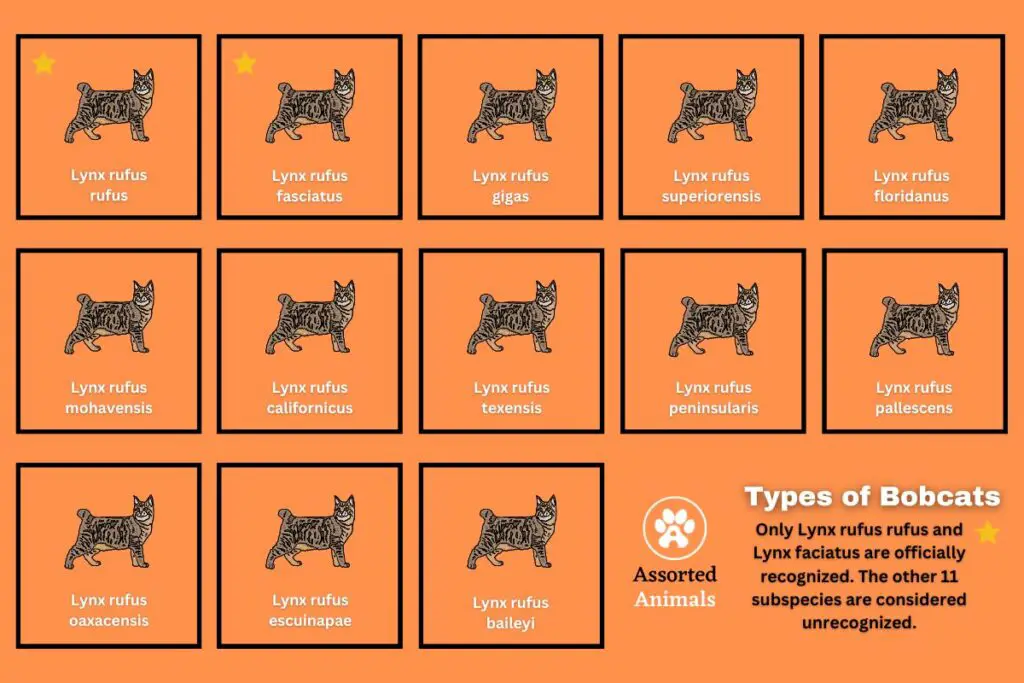 13 Bobcat Subspecies
Lynx rufus rufus
Lynx rufus fasciatus
Lynx rufus gigas
Lynx rufus superiorensis
Lynx rufus floridanus
Lynx rufus mohavensis
Lynx rufus californicus
Lynx rufus texensis
Lynx rufus peninsularis
Lynx rufus pallescens
Lynx rufus oaxacensis
Lynx rufus escuinapae
Lynx rufus baileyi
Quick List of Bobcat Subspecies.
Additional Bobcat Subspecies (Not Officially Recognized)
Now it's time to take a look at the 11 additional bobcat subspecies that have not officially been recognized. Many of these subspecies have been found in the western portions of North America. 
Lynx rufus gigas
This subspecies is most commonly found in the Northern regions of the North American continent. Nova Scotia is a common location where you might come across the Lynx rufus gigas. They are similar to other subspecies of bobcats but they are more comfortable in colder weather climates because they are found in regions that experience much colder temperatures on a regular basis.
Lynx rufus superiorensis
The Lynx rufus superiorensis subspecies of bobcat can be found in several locations. Most commonly, you'd probably come across this particular type of bobcat near the Great Lakes. 
Lynx rufus floridanus
You might be able to imagine where the Lynx rufus floridanus lives based on its name. This subspecies can be found in Southeastern states like Florida and Georgia. It is believed that the Lynx rufus floridanus has even been seen in various regions of Illinois. 
Lynx rufus mohavensis
Bobcats are capable of adapting to many different climates around North America. Dry desert conditions are included on this list and that's what makes the Lynx rufus mohavensis so interesting to learn about. This type of bobcat primarily lives in the Mojave Desert in California. 
Lynx rufus californicus
Much like the Lynx rufus mohavensis, the Lynx rufus californicus is another bobcat subspecies that is commonly found in dry desert conditions. This bobcat subspecies has been seen in the Sierra Nevada mountain range and in the California desert.
Lynx rufus texensis
Many bobcat observers may want to travel down south to Texas if they want to find the Lynx rufus texensis subspecies. This type of bobcat is known for being extremely adaptable and commonly represents the traditional black-tipped tail along with stripes on their fur coat. 
Lynx rufus peninsularis
If you travel to Baja California, you're almost certain to come across the Lynx rufus peninsularis. The southern regions of North America are common locations to find this type of bobcat although they can also be found up the California coast as far north as the United States border. 
Lynx rufus pallescens
The Lynx rufus pallescens is a subspecies of bobcat that has adapted to colder weather climates, much like the Lynx rufus gigas. You can find the Lynx rufus pallescens in regions near Alberta or Saskatchewan in Canada.
Lynx rufus oaxacensis
The Lynx rufus oaxacensis is a bobcat subspecies that is among the smallest in terms of overall population representation. This bobcat is really only found in a few regions, although it can primarily be found in Oaxaca, Mexico.  
Lynx rufus escuinapae 
This is another well-known Mexican variation of bobcat. The Lynx rufus escuinapae is not really found in the United States or Canada, but it has a significant presence in Mexico. This subspecies of bobcat has adapted to warmer and dryer weather climates. 
Lynx rufus baileyi
The final bobcat subspecies that we are going to discuss in this section is the Lynx rufus baileyi. It is very similar to the Lynx rufus texensis and lives in the Southern United States. You can find this bobcat in Arizona, New Mexico, and in some regions near the California-Mexico border.
"Black bobcat sightings are rare, but not completely unusual."

Chad Fox – Assorted Animals
Final Thoughts
It can be incredibly difficult to memorize all of the bobcat subspecies that currently exist in North America. The important thing is that many of them are extremely similar, but each subspecies has slightly adapted to their regions. Some may also have slightly different physical traits based on their adaptations. 
While the Lynx rufus rufus and the Lynx rufus fasciatus are the only two officially recognized subspecies for bobcats, there are still 11 additional non-official subspecies that are interesting to learn about if you are a bobcat enthusiast.